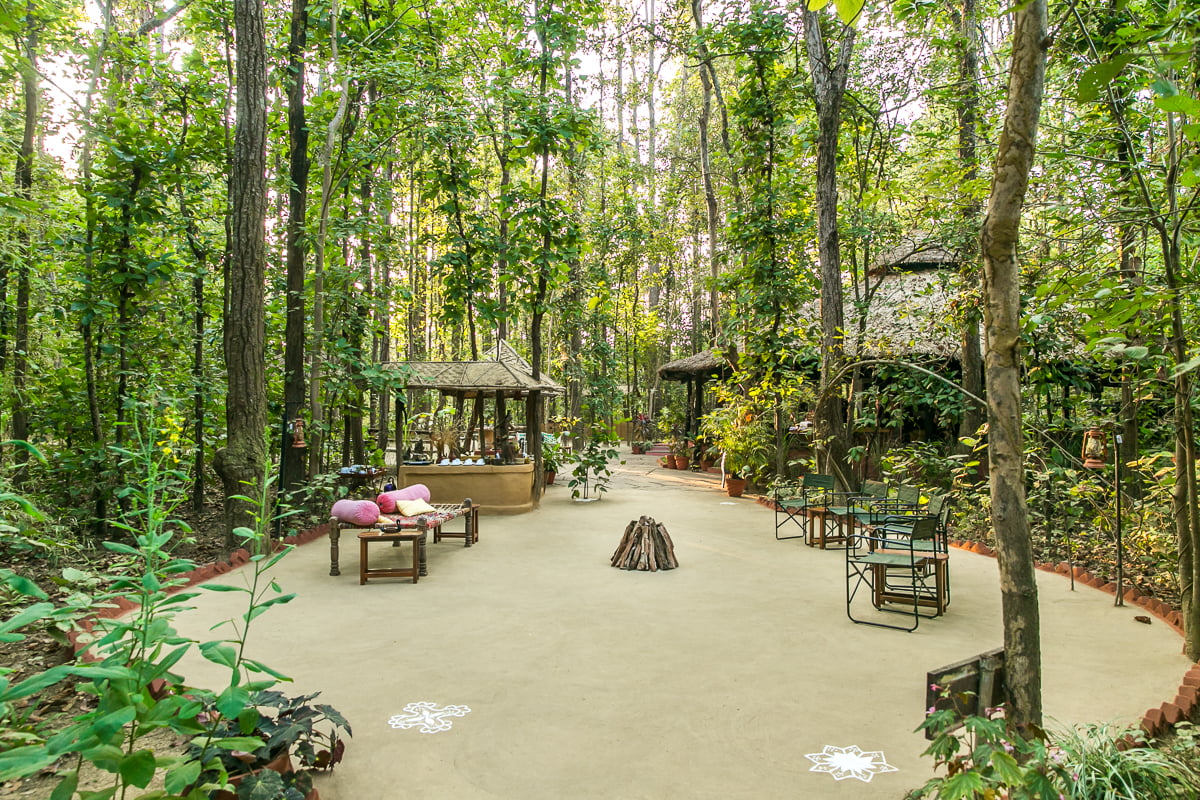 We organise Nature walks in and around our Jungle Lodge, thru the forest, where you get to experience and see a variety of birdlife and insects as well as the occasional anthill… If you are lucky, down by the river, you may even get to see the elephants bathing in the afternoon and can participate in helping them take a bath.
Bird Watching:-Large Number of Butterflies can be found in Kanha Jungle LodgeWe organize Bird-watching excursions around the Jungle Lodge, during the day, for those energetic clients who are interested in learning more about our birdlife.
Butterflies:- Kanha is specially rich with its butterflies and a large number of them are found at Kanha Jungle Lodge. See the collection of Butterflies at the Lodge.
Astronomy:- As the sun sets and a galaxy of stars covers the canopy, we take a short after dinner walk to begin our Star Gazing session. After a short introduction of Stars and constellations, you have an opportunity to see through our telescope the planets, so close, never seen before by most guests. You will all enjoy this exhilarating experience! Cookery Classes and Sari demonstrations are some of the other surprises in store for you at our lodge.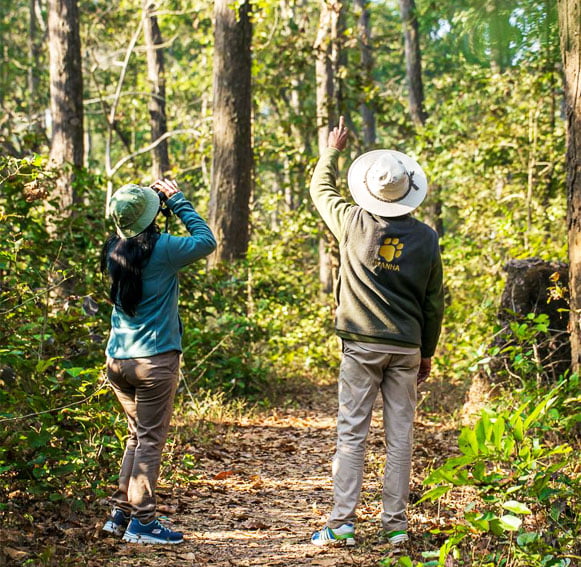 Jungle Safaris are organized by 4 x 4 jeep vehicles, open from all sides to give you a panoramic unobstructed view of the landscape, to catch every bird or animal that may just sneak into the grass and to listen to the sounds of nature whether it be mating calls, alarm calls, distress call or just a casual roar. The Vehicles are extremely quiet and do not disturb the peaceful jungle environment and allows us to listen to Jungle sounds and photographs with a great amount of ease. There are two jungle excursions at Dawn and Dusk which are conducted. The jungle safari is accompanied by a forest guide and last for 3-4 hours each. During the jungle excursion, there is always a good chance to see many animals including rare animals such as Tiger, leopard sloth bear or a wolf.
The jungle sounds "alarm calls" of the Deer and Monkeys and occasionally the red jungle fowl, make the forest come alive as if we are sitting in a theater with the worlds best stereophonic sound equipment !!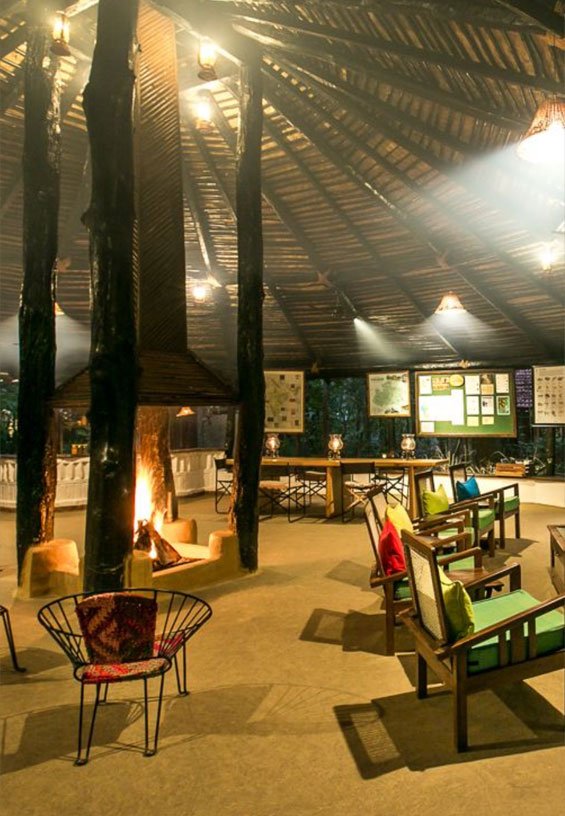 Much of our fresh vegetables come from organic farming at the Lodge. One can see a Variety of vegetables and fruits being cultivated. Guest are welcome to take a tour.
Is an open area in the center of the Jungle Lodge surrounded by the Sal forest with chirping birds and fluttering butterflies. Participate in a discussion on tiger sightings and conservation issues with a blazing campfire. It also provides an ideal set up for star gazing in the evening. .There is also a hammock if one just wants to relax or read a book. And a great place to catch up for "chai" and daily campfire evenings!
Our grounds most of the land is left wild with lush overgrown grass to attract and make our Jungle inhabitants comfortable. Our 11-acre estate, is, however, interspersed with Sal trees and bamboo that do attract our Jungle neighbors like our well known flying squirrel ! and a variety of chirping birds. You will occasionally get to see the flying squirrel, colorful butterflies and insects, a Langur monkey and even a few strolling spotted deer!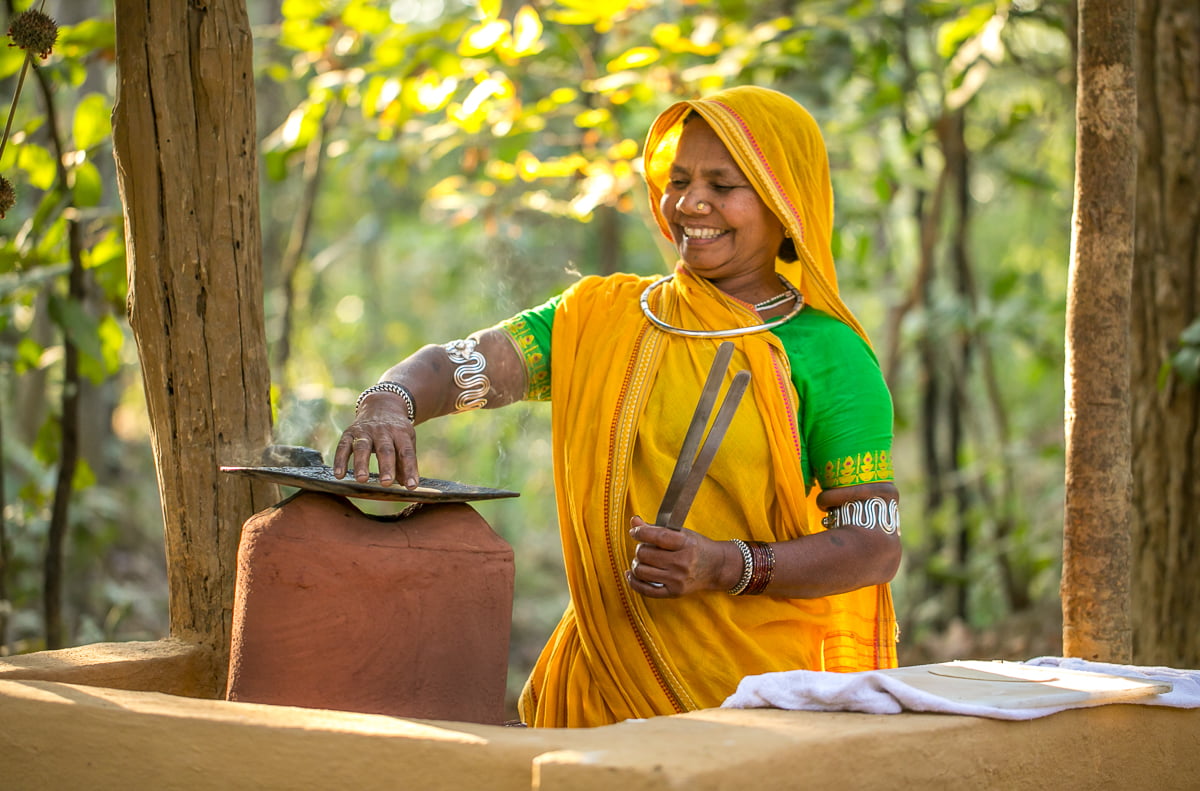 Our resident Naturalist oversees most of our environment sensitive programs and conducts the jungle safaris to Kanha National Park, Birding excursion around our wild lands, village excursions, Astronomical session and discusses with you the days wrap up of the activities, observations and answer your questions. He is actively involved with the conservation activities sponsored by the Jungle Lodge through Tiger Trust.
For those who are interested in exploring India's rural area, we organize a Village safari to visit some villages and schools to understand their way of life, which is very unique and different to our city life. Their simple attractive red tiled roof – neat and clean homes, colourful attire in saris, traditional ways of cooking on firewood as well as cultivation by traditional methods, are an eye opener. You can also visit the weekly local village market which offers a variety of goods from fresh produce to colourful saris and household utensils, spices – all you need for your home and family !
To increase our dependence on the direct energy sources we have tried to use the power of sun god to provide us the energy and help save the worlds natural environment.
Some part of the cooking for our Guests is done in two different types of Solar Cookers. This helps minimize energy use and also food cooked is healthy and tasty. Our guests can ask for cooking lessons for solar cooking.
To make efficient and hygienic disposal of organic waste, we are using a process of decomposition by worms which is efficient, odorless and provides us with rich organic fertilizers for our organic farming on site.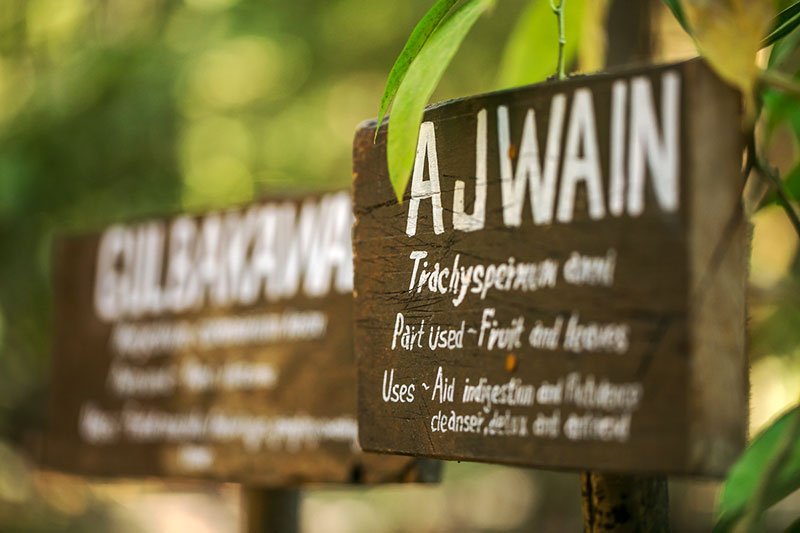 We have also on site a nursery of indigenous Medicinal/ Herbal Plant which is an astonishing insight on what secrets seemingly unimportant plants hold for our good health. There is a large variety of Plants and a tour with our naturalist makes it an interesting experience.